I know, I know, the name is laughable. Ha, ha, ha. Now that that's out of the way, let's get down to business.
Carbras were a big deal in my younger days. I thought they were the shit because I didn't know any better. Now, the thought of one wreaking havoc to the paint makes me cringe. Flash forward to the 90's and along came the "clear" carbra, and you guessed it, 3M led the way. Brilliant!
What is It?
You may have heard it referred to as paint protection film, ppf, clear bra, clear mask, or invisible shield. It's basically a transparent adhesive film which adheres to your car's paint to protect it from chips, scratches, and discoloration. It's damn tough for being only 8 millimeters thick. Most importantly it can withstand our punishing Colorado weather.
Why Do I Need It?
A picture speaks a thousand words. Choosing a clear bra doesn't change the look of your vehicle. It's invisible protection keeping it looking newer, longer. Even if your vehicle is an older model, we can clean her up and put a clear bra on her so she looks new again. Beats the old style leather carbras.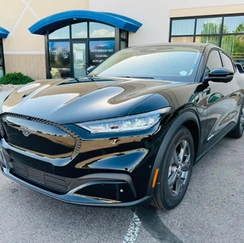 Benefits of Scotchgard™ Paint Protection Pro Series Gloss
1.  Keeps vehicles looking newer, longer
2.  Protects against rocks, bugs, sand, keys, salt and weather elements
3.  Gives exceptional clarity
4.  Helps to maintain the color and brilliance of the paint
5.  Has a 10-year warranty
6.  UV protection even your car needs
7.  It's hydrophobic and easy to maintain
8.  And it's durable and self-healing
In short, it protects your investment, plain and simple. We can apply it all over your vehicle or in high-impact zones. Here are some areas to think about when hiring a professional.
Coverage Areas to Consider:
1.    Everyday Wear and Tear
        a. Door edge guards
        b. Trunk ledge
        c. Door handles
        d. Headlights
        Cost: $
2.    Partial Coverage to High Impact Areas
       a. Partial front hood and fenders
       b. Front bumper
       c. Headlights
       d. Side mirrors
       e. Door edge guards, trunk ledge, door cups
       Cost: $$
3.    Full Frontend Protection
       a. Full hood and full fenders
       b. Front bumper
       c. Headlights
       d. Side mirrors
       e. Door edge guards, trunk ledge, door handles
       Cost: $$$
4.    Full Vehicle Protection
        a. Covers every painted surface of the vehicle
        Cost: $$$$
Depending on how much you get covered, the price can add up, but it is 100% worth the money. Ask anyone who has one. I've seen cars with as little as 25 miles on it with a chip. It happens and fixing a rock chip or removing scratches or painting your car again is a lot pricier than protecting it up front.